Entertain with Ease: The Shirley Carriere Cookbook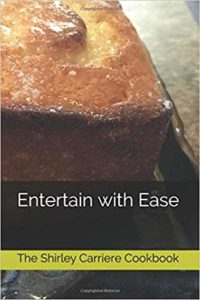 LovePS has released "Entertain with Ease: The Shirley Carriere Cookbook" on Amazon. It is chock-full of easy recipes that are sure to wow your guests. Get your copy here.

This page contains updates and corrections for any errors you may notice in the book. If you notice an error not listed below, please Contact Us to report the page and suspected problem. We also update the manuscript when posting items here, so these errors should not appear in future copies that you buy.

Updates to the Cookbook
Apple Slice
Some of the instructions are missing from page 101. Download the Apple Slice recipe.
Caesar Salad Dressing
The salt is missing from page 25. Download the Caesar Salad Dressing recipe.

About the Cookbook
Shirley Carriere loved to entertain. As a cook, baker, and host, Shirley was at her best when seated with a group around a table with good food and good conversation. Cheesecakes, cookies, ribs, and spicy shrimp salad, she did it all. This book contains over 150 old favourites and creative experiments, like the two different Caesar salad recipes that represent traditional cooking and an exotic reboot. It contains everyone's two favourite squares, the Almond Puff and Pumpkin Cheesecake bars, as well as family favourites like Chicken Chili and Shepherd's Pie. In Shirley's memory, we invite everyone to make these recipes and treasure the moments they provide. Half of the net proceeds from each book sold will be donated to the Saskatoon Cancer Centre.
Follow Us:







Share This: